Excel Basics
Intensiv-Seminar
Learn time-saving options in Excel
Learn to master functions in Excel
Easily solve difficult tasks in just a few minutes
Visualise and shape your data
Dieses Seminar ist als 2-tägiges Präsenz-Seminar buchbar.
Attend our 2-day intensive Excel Basics seminar and learn to work more efficiently and save time as a result. Our Excel Basics seminar has been developed specifically for participants who have a low to basic understanding of Excel and want to become confident with it in a short space of time. Become a secure user of Excel, save valuable time and turn Excel into tool you can really put to good use! The seminar is conducted by our co-operation partner.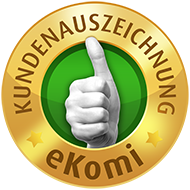 Ein super aufbereitetes Seminar. Die Inhalte wurden klar und deutlich transportiert. Frau *** ist auf jeden eingegangen, der Unterstützung brauchte. Es wurden sogar spontane Tabellen erstellt und personenbezogene Fragen geklärt. Absolut empfehlenswert. Vielen Dank.
Excel Basics als Firmenseminar anfragen
Who'll be taking part in the seminar?
This basic Excel course is aimed at all those who want to improve their knowledge of the most important basic functions in Excel. The Excel Basics intensive seminar is the ideal base for any further Excel courses where you can deepen your knowledge in a targeted manner.
By the end of the seminar, you will be able to
construct, edit and format large lists and spreadsheets;
optimise your Excel work environment for your individual requirements;
increase the work flow in your company;
present your results in a visually appealing fashion.
Getting to know the user interface

Basic work steps in Excel arranged clearly
Learning techniques for clearing cells, formats and contents

Basics of spreadsheet editing

Creating and editing spreadsheets and lists
Adding useful comments in spreadsheets
Managing the linking of spreadsheets

Working with formulas

Forming and entering formulas
Introduction to the manual input of formulas
An overview of getting to know and applying important formulas
Finding and correcting errors in formulas

Formatting basics

Managing the formatting of spreadsheets and cells
Sensibly arranging data sets
Splitting the contents of cells
Finding duplicates and eliminating them
Fast formatting options
Working with style sheets

Practical case examples

Quickly finding and deleting duplicates in spreadsheets
Sensibly formatting the contents of spreadsheets; for example, learning to separate first and last names

Working with functions in Excel

Developing the structure and areas of application of functions
Getting to know search functions and what they offer
Using the function library
Using filters and getting results more quickly

Creating and designing charts

Creating and editing graphics and drawing objects
Getting to know different types of charts
Using Excel in conjunction with PowerPoint and Word

Practical case examples

Creating statistics
Preparing your results in a visually appealing manner either as a spreadsheet or as a graphic

Printing spreadsheets correctly

Setting page layout and printing with Excel
Correctly setting print ranges in Excel
Setting headers and footers, column and row titles

Tips and tricks from the trainer

Learning important keyboard shortcuts
Data conversion in Excel
Understanding external Excel spreadsheets and tailoring them to your own needs
Diese Seminare könnten Sie auch interessieren
Hilfe bei der Auswahl.
Sie wissen nicht, welche Schulung für Sie die richtige ist? Rufen Sie uns an unter der kostenfreien Nummer
0800 – 4200 500
oder schreiben Sie uns eine E-Mail an
kundenservice@confex.de
- wir unterstützen Sie gerne, das optimale Seminar für Ihren Bedarf zu finden.
Rückrufwunsch angeben
Unsere Treueprämie.
Viele unserer Kundinnen und Kunden kommen wieder, weil sie die Vielfalt und die Aktualität unseres Kursangebotes schätzen. Darüber freuen wir uns sehr und schenken jedem Teilnehmenden nach der Schulung als Dankeschön einen Gutschein im Wert von 100 Euro.
Unser Schulungs-Team.
Nur zusammen sind wir erfolgreich. Dank der unterschiedlichsten beruflichen Hintergründe unserer Referent*innen können wir auf Ihre individuellen Anforderungen eingehen. Werfen Sie doch einen Blick auf unser Team an Dozentinnen und Dozenten.
Alle Trainer*innen
© 2023 CONFEX TRAINING GMBH
Professionelle Excel Schulungen bei CONFEX
Cookie – Einstellungen
Wir freuen uns über Ihren Besuch auf unserer Webseite. Der Schutz Ihrer personenbezogenen Daten ist uns sehr wichtig. Wir setzen Cookies ein, um die Nutzerfreundlichkeit unserer Webseite zu verbessern. Entscheiden Sie selbst, welche Cookie-Kategorien Sie zulassen möchten. Weitere Informationen finden Sie in unseren Datenschutzhinweisen.
Cookies dieser Kategorie sind für die Grundfunktionen dieser Website erforderlich. Sie können daher nicht deaktiviert werden.

Diese Cookies zählen anonym Seitenbesuche und die Nutzung von Funktionen. Die anonymen Informationen verwenden wir zur Analyse sowie zur Optimierung unserer Website und entwickeln so neue Angebote und Funktionen für Sie und andere Nutzer.
Impressum